This recipe was clipped from a newspaper, date unknown but probably the 1980s or 1990s. Recipe is typed below along with a scanned copy.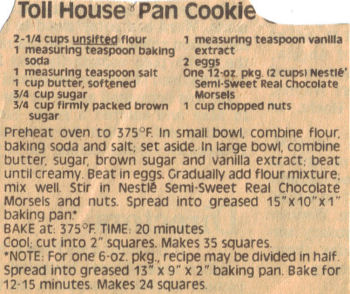 Toll House Pan Cookies
2-1/4 cups unsifted flour
1 measuring teaspoon baking soda
1 measuring teaspoon salt
1 cup butter, softened
3/4 cup sugar
3/4 cup firmly packed brown sugar
1 measuring teaspoon vanilla extract
2 eggs
One 12-oz. pkg. (2 cups) Nestle Semi-Sweet Real Chocolate Morsels
1 cup chopped nuts
Preheat oven to 375°F. In small bowl, combine flour, baking soda and salt, set aside. In large bowl, combine butter, sugar, brown sugar and vanilla extract; beat until creamy. Beat in eggs. Gradually add flour mixture; mix well. Stir in Nestle Semi-Sweet Real Chocolate Morsels and nuts. Spread into greased 15″x10″x1″ baking pan.*
BAKE at: 375°F. TIME: 20 minutes
Cool; cut into 2″ squares. Makes 35 squares.
*NOTE: For one 6-oz. pkg., recipe may be divided in half. Spread into greased 13″x9″x2″ baking pan. Bake for 12-15 minutes. Makes 24 squares.
More Recipes For You To Enjoy: