This recipe was clipped from packaging of None Such Mince Meat (BORDEN, INC.) and published in 1970. Recipe is typed below along with a scanned copy.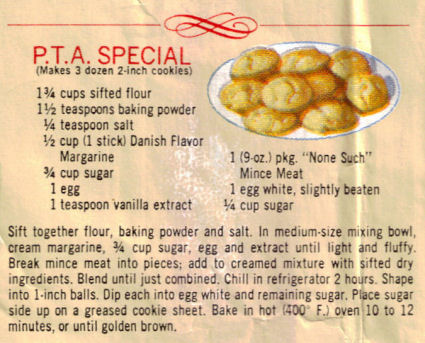 P.T.A. SPECIAL
(Makes 3 dozen 2-inch cookies)
1 3/4 cups sifted flour
1 1/2 teaspoons baking powder
1/4 teaspoon salt
1/2 cup (1 stick) Danish Flavor Margarine
3/4 cup sugar
1 egg
1 teaspoon vanilla extract
1 (9-oz.) pkg. "None Such" Mince Meat
1 egg white, slightly beaten
1/4 cup sugar
Sift together flour, baking powder and salt. In medium-size mixing bowl, cream margarine, 3/4 cup sugar, egg and extract until light and fluffy. Break mince meat into pieces; add to creamed mixture with sifted dry ingredients. Blend until just combined. Chill in refrigerator 2 hours. Shape into 1-inch balls. Dip each into egg white and remaining sugar. Place sugar side up on a greased cookie sheet. Bake in hot (400° F.) oven 10 to 12 minutes, or until golden brown.
More Recipes For You To Enjoy: