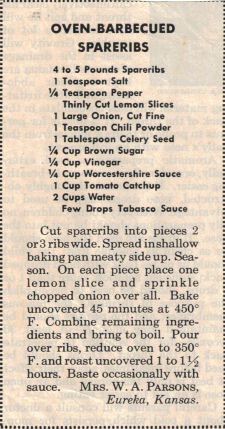 This recipe was clipped from a magazine, date unknown but I'd guess 1960s or so. Recipe is typed below along with a scanned copy.
OVEN-BARBECUED SPARERIBS
4 to 5 Pounds Spareribs
1 Teaspoon Salt
1/4 Teaspoon Pepper
Thinly Cut Lemon Slices
1 Large Onion, Cut Fine
1 Teaspoon Chili Powder
1 Tablespoon Celery Seed
1/4 Cup Brown Sugar
1/4 Cup Vinegar
1/4 Cup Worcestershire Sauce
1 cup Tomato Catchup
2 Cups Water
Few Drops Tabasco Sauce
Cut spareribs into pieces 2 or 3 ribs wide. Spread in shallow baking pan meaty side up. Season. On each piece place one lemon slice and sprinkle chopped onion over all. Bake uncovered 45 minutes at 450° F. Combine remaining ingredients and bring to boil. Pour over ribs, reduce oven to 350° F. and roast uncovered 1 to 1 1/2 hours. Baste occasionally with sauce.
More Recipes For You To Enjoy: