This recipe was clipped from a newspaper or magazine, date is unknown but most of the recipes in this collection were from the 1940s through the 1960s. Recipe is typed below along with a scanned copy.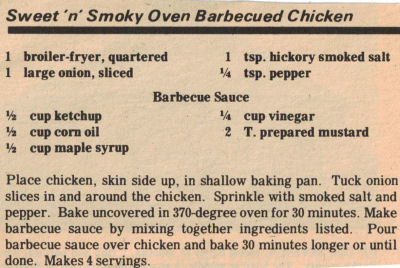 Sweet 'n' Smoky Oven Barbecued Chicken
1 broiler-fryer, quartered
1 large onion, sliced
1 tsp. hickory smoked salt
1/4 tsp. pepper
Barbecue Sauce
1/2 cup ketchup
1/2 cup corn oil
1/2 cup maple syrup
1/4 cup vinegar
2 T. prepared mustard
Place chicken, skin side up, in shallow baking pan. Tuck onion slices in and around the chicken. Sprinkle with smoked salt and pepper. Bake uncovered in 370-degree oven for 30 minutes. Make barbecue sauce by mixing together ingredients listed. Pour barbecue sauce over chicken and bake 30 minutes longer or until done. Makes 4 servings.
More Recipes For You To Enjoy: