This recipe was clipped from a newspaper, date unknown but is probably from the 1970s. The recipe is typed out below along with a scanned copy.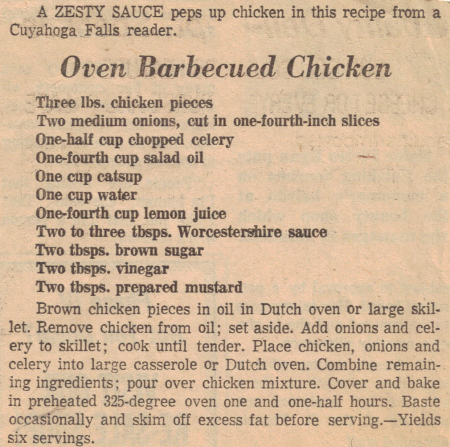 A ZESTY SAUCE peps up chicken in this recipe from a Cuyahoga Falls reader.
Oven Barbecued Chicken
Three lbs. chicken pieces
Two medium onions, cut in one-fourth-inch slices
One-half cup chopped celery
One-fourth cup salad oil
One cup catsup
One cup water
One-fourth cup lemon juice
Two to three tbsps. Worcestershire sauce
Two tbsps. brown sugar
Two tbsps. vinegar
Two tbsps. prepared mustard
Brown chicken pieces in oil in Dutch oven or large skillet. Remove chicken from oil; set aside. Add onions and celery to skillet; cook until tender. Place chicken, onions and celery into large casserole or Dutch oven. Combine remaining ingredients; pour over chicken mixture. Cover and bake in preheated 325-degree oven one and one-half hours. Baste occasionally and skim off excess fat before serving.–Yields six servings.
More Recipes For You To Enjoy: