This recipe was clipped from a magazine, date unknown. Recipe is typed below along with a scanned copy.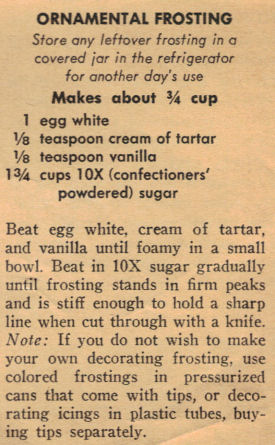 ORNAMENTAL FROSTING
Store any leftover frosting in a covered jar in the refrigerator for another day's use
Makes about 3/4 cup
1 egg white
1/8 teaspoon cream of tartar
1/8 teaspoon vanilla
1 3/4 cups 10X (confectioners' powdered) sugar
Beat egg white, cream of tartar, and vanilla until foamy in a small bowl. Beat in 10X sugar gradually until frosting stands in firm peaks and is stiff enough to hold a sharp line when cut through with a knife.
Note: If you do not wish to make your own decorating frosting, use colored frostings in pressurized cans that come with tips, or decorating icings in plastic tubes, buying tips separately.
More Recipes For You To Enjoy: