This was printed on a promo recipe card by French's and found in a large collection, date unknown. I've typed it below along with a scanned copy.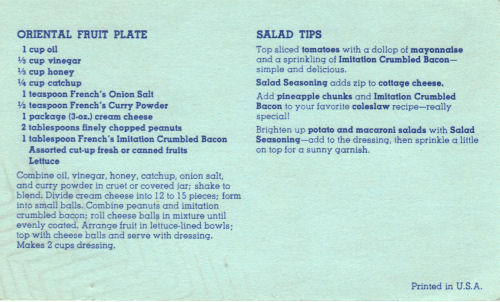 ORIENTAL FRUIT PLATE
1 cup oil
1/3 cup vinegar
1/3 cup honey
1/4 cup catchup
1 teaspoon French's Onion Salt
1/2 teaspoon French's Curry Powder
1 package (3-oz.) cream cheese
2 tablespoons finely chopped peanuts
1 tablespoon French's Imitation Crumbled Bacon
Assorted cut-up fresh or canned fruits
Lettuce
Combine oil, vinegar, honey, catchup, onion salt, and curry powder in cruet or covered jar; shake to blend. Divide cream cheese into 12 to 15 pieces; form into small balls. Combine peanuts and imitation crumbled bacon; roll cheese balls in mixture until evenly coated. Arrange fruit in lettuce-lined bowls; top with cheese balls and serve with dressing.
Makes 2 cups dressing.
More Recipes For You To Enjoy: