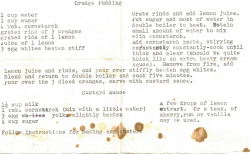 Typed with a typewriter on thin, white onion-skin like paper. Stained. Date unknown.
Orange Pudding
1 cup water
1 cup sugar
4 Tab. cornstarch
grated rind of 3 oranges
grated rind of 1 lemon
Juice of 1 lemon
3 egg whites beaten stiff
Grate rinds and add lemon juice.
Put sugar and most of water in double boiler to heat. Retain small amount of water to mix with cornstarch.
Add cornstarch paste, stirring constantly–cook until thick and clear (should be quite thick like an extra heavy cream sauce).
Remove from fire, add lemon juice and rinds, and pour over stiffly beaten egg whites.
Blend and return to double boiler and cook five minutes.
Pour over the 3 diced oranges, serve with custard sauce.
Custard Sauce
1 1/2 cup milk
1 Tab. cornstarch (mix with a little water)
3 egg yolks slightly beaten
1/4 cup sugar
A few drops of lemon extract. Or a teas. of sherry, rum or vanilla may be used.
Follow instructions for making any custard.
More Recipes For You To Enjoy: