This recipe was clipped from a newspaper and published in 1989. Recipe is typed below along with a scanned copy.
ORANGE-OATMEAL BREAKFAST MUFFINS
1/2 cup quick-cooking oats
2 1/2 cups all-purpose flour
1/4 cup sugar
1 tablespoon baking powder
1/2 teaspoon salt
2 large eggs
1 cup Florida orange juice
1/2 cup milk
1/4 cup butter or margarine, melted
1 tablespoon grated orange peel
Sprinkle oats onto a jelly roll pan or baking sheet; toast in preheated 400F. oven four to five minutes, or until lightly browned. Leave oven heat on. In large bowl, combine oats, flour, sugar, baking powder and salt. In medium bowl, beat eggs, orange juice, milk, butter and grated orange peel. Pour orange juice mixture into dry ingredients, stirring quickly to combine. Do not overmix. Spoon batter evenly into 10 greased 3-inch muffin tins or twelve 2 1/2-inch muffin tins. Bake in preheated 400F. oven 20 to 25 minutes or until golden. Makes 10 to 12 muffins.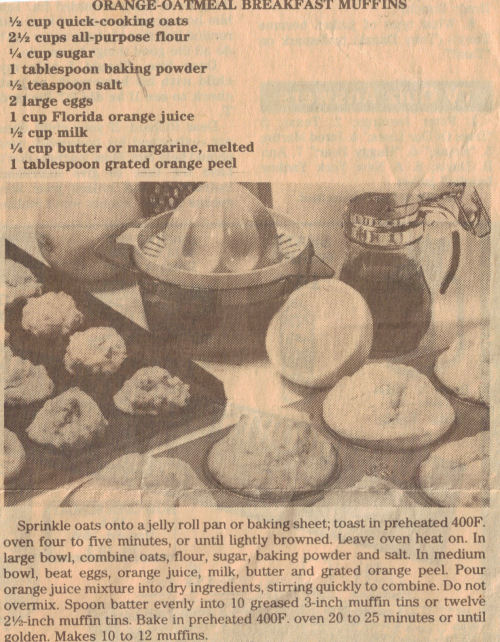 More Recipes For You To Enjoy: