Here's an old method of canning that seals the jars with paraffin wax (no longer advised to do today). This handwritten recipe was found in a large collection, date unknown. I've typed it below along with a scanned copy (front side).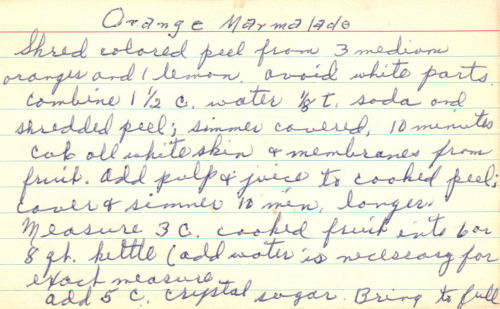 Orange Marmalade
Shred colored peel from 3 medium oranges and 1 lemon, avoid white parts.
Combine 1 1/2 c. water; 1/8 t. soda and shredded peel; simmer covered, 10 minutes. Cut all white skin & membranes from fruit. Add pulp & juice to cooked peel; cover & simmer 10 min. longer.
Measure 3 c. cooked fruit into 6 or 8 qt. kettle (add water if necessary for exact measure). Add 5 c. crystal sugar. Bring to full rolling boil over high heat. Boil hard 1 minute stirring constantly.
Remove from heat at once and stir in 1/2 bottle certo fruit pectin. Skim off foam with metal spoon.
Stir & skim alternately for 5 minutes to prevent floating fruit.
Ladle into hot scalded glasses.
Seal with 1/8 inch melted paraffin.
Please read the Safe Canning & Food Preservation section if planning on canning this recipe.
More Recipes For You To Enjoy: