This recipe was clipped from a newspaper and found in a large collection, date unknown. I've typed it below along with a scanned copy.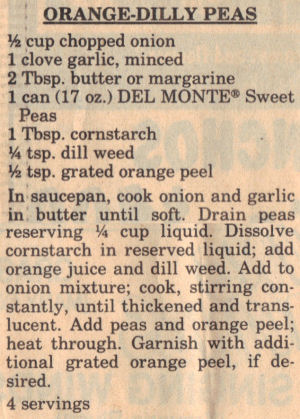 ORANGE-DILLY PEAS
1/2 cup chopped onion
1 clove garlic, minced
2 Tbsp. butter or margarine
1 can (17 oz.) DEL MONTE Sweet Peas
1 Tbsp. cornstarch
1/4 tsp. dill weed
1/2 tsp. grated orange peel
In saucepan, cook onion and garlic in butter until soft. Drain peas reserving 1/4 cup liquid. Dissolve cornstarch in reserved liquid; add orange juice and dill weed. Add to onion mixture; cook, stirring constantly, until thickened and translucent. Add peas and orange peel; heat through. Garnish with additional grated orange peel, if desired.
4 servings
More Recipes For You To Enjoy: