This recipe was clipped from a newspaper, date unknown. Recipe is typed below along with a scanned copy (last line of directions are missing in the scanned copy since it's at the top of another column).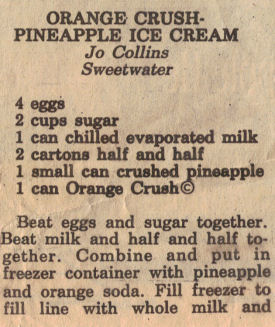 ORANGE CRUSH-PINEAPPLE ICE CREAM
4 eggs
2 cups sugar
1 can chilled evaporated milk
2 cartons half and half
1 small can crushed pineapple
1 can Orange Crush
Beat eggs and sugar together. Beat milk and half and half together. Combine and put in freezer container with pineapple and orange soda. Fill freezer to fill line with whole milk and freeze according to manufacturer's directions.
More Recipes For You To Enjoy: