This handwritten recipe comes from a large collection, date unknown. Recipe is typed below along with a scanned copy.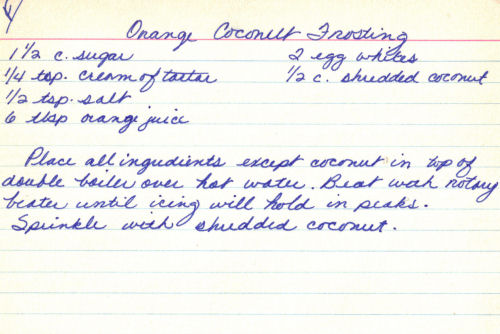 Orange Coconut Frosting
1 1/2 c. sugar
1/4 tsp. cream of tartar
1/2 tsp. salt
6 tbsp. orange juice *RecipeCurio Note: The measurement isn't clear, it could be tsp or tbsp–please let me know if you try it
2 egg whites
1/2 c. shredded coconut
Place all ingredients except coconut in top of double boiler over hot water. Beat with rotary beater until icing will hold in peaks.
Sprinkle with shredded coconut.
More Recipes For You To Enjoy: