Here's an old handwritten recipe on a slip of paper, the directions are sparse but easy enough to figure out (I added my comments underneath the recipe). Date unknown. Recipe is typed below along with a scanned copy.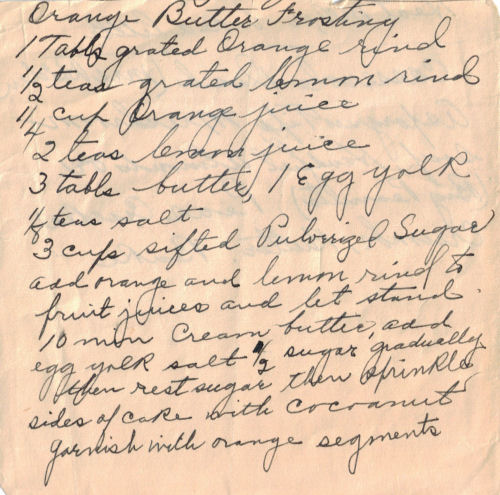 Orange Butter Frosting
1 Tabls grated orange rind
1/2 teas grated lemon rind
1/4 cup orange juice
2 teas lemon juice
3 tabls butter
1 egg yolk
1/8 teas salt
3 cups sifted pulverized sugar
Add orange and lemon rind to fruit juices and let stand 10 min. Cream butter, add egg yolk, salt, 1/2 sugar gradually then rest sugar then sprinkle sides of cake with coconut. Garnish with orange segments.
*RecipeCurio Note: The directions aren't very clear, but I believe after creaming the butter and egg yolk, you mix with the fruit juices, add sugar gradually. After mixing all the ingredients together, you frost the cake and then sprinkle with coconut and garnish with orange segments.
More Recipes For You To Enjoy: