This is a promo recipe card from Rice Chex cereal that was found in a large collection, date unknown. I've typed it below along with a scanned copy.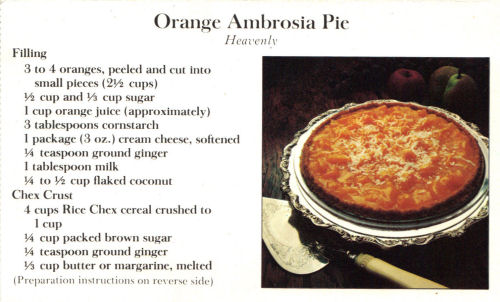 Orange Ambrosia Pie
Heavenly
Filling
3 to 4 oranges, peeled and cut into small pieces (2 1/2 cups)
1/2 cup and 1/3 cup sugar
1 cup orange juice (approximately)
3 tablespoons cornstarch
1 package (3 oz.) cream cheese, softened
1/4 teaspoon ground ginger
1 tablespoon milk
1/4 to 1/2 cup flaked coconut
Chex Crust
4 cups Rice Chex cereal crushed to 1 cup
1/4 cup packed brown sugar
1/4 teaspoon ground ginger
1/3 cup butter or margarine, melted
To prepare Filling, mix orange pieces and 1/2 cup sugar. Set aside while preparing Chex Crust (recipe below).
Drain syrup from oranges. Add enough orange juice to make 1 1/2 cups. In medium-size saucepan combine cornstarch and remaining 1/3 cup sugar. Add orange juice. Cook and stir over medium heat until very thick and clear. Cool to lukewarm. Combine cream cheese, ginger and milk. Spread on bottom and sides of crust. Stir orange pieces into sauce. Turn into crust. Sprinkle with coconut. Chill at least two hours or until sauce is set. For easy serving, set pie plate in warm water for 1 minute before cutting.
Chex Crust: Preheat oven to 300°. Butter 9-inch pie plate. Combine Rice Chex crumbs, sugar and ginger. Add butter. Mix thoroughly. Press evenly onto bottom and sides of pie plate. Bake 10 minutes. Cool completely.
Makes 6-8 servings.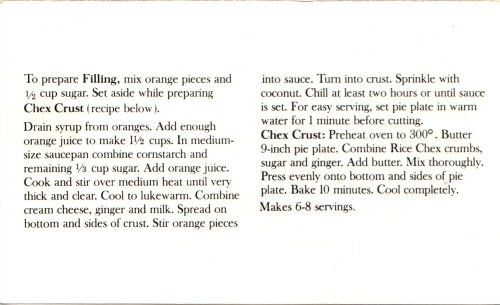 More Recipes For You To Enjoy: