This recipe was clipped from a package of Lipton's Onion Soup mix, date unknown. Recipe is typed below along with a scanned copy. The dip recipe included on this clipping is archived here: Lipton's Onion Soup Dip Recipes.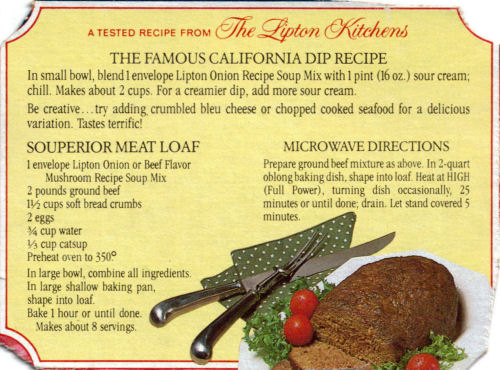 SOUPERIOR MEAT LOAF
1 envelope Lipton Onion or Beef Flavor Mushroom Recipe Soup Mix
2 pounds ground beef
1 1/2 cups soft bread crumbs
2 eggs
3/4 cup water
1/3 cup catsup
Preheat oven to 350°.
In large bowl, combine all ingredients. In large shallow baking pan, shape into loaf. Bake 1 hour or until done. Makes about 8 servings.
MICROWAVE DIRECTIONS
Prepare ground beef mixture as above. In 2-quart oblong baking dish, shape into loaf. Heat at HIGH (Full Power), turning dish occasionally, 25 minutes or until done; drain. Let stand covered 5 minutes.
More Recipes For You To Enjoy: