This is a clipping from Parade Magazine dated November 6, 1960.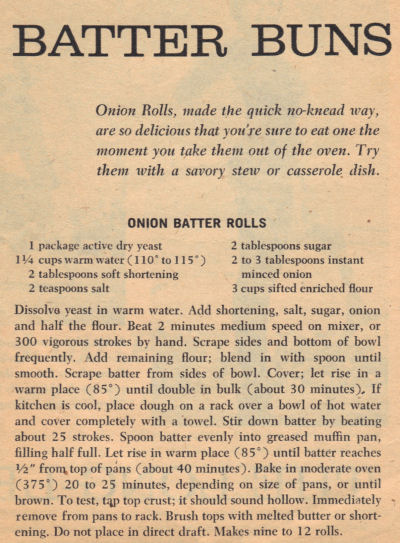 Onion Rolls, made the quick no-knead way, are so delicious that you're sure to eat one the moment you take them out of the oven. Try them with a savory stew or casserole dish.
Onion Batter Rolls
1 package active dry yeast
1 1/4 cups warm water (110° to 115°)
2 tablespoons soft shortening
2 teaspoons salt
2 tablespoons sugar
2 to 3 tablespoons instant minced onion
3 cups sifted enriched flour
Dissolve yeast in warm water. Add shortening, salt, sugar, onion and half the flour. Beat 2 minutes medium speed on mixer, or 300 vigorous strokes by hand. Scrape sides and bottom of bowl frequently. Add remaining flour; blend in with spoon until smooth. Scrape batter from sides of bowl. Cover; let rise in a warm place (85°) until double in bulk (about 30 minutes). If kitchen is cool, place dough on a rack over a bowl of hot water and cover completely with a towel. Stir down batter by beating about 25 strokes. Spoon batter evenly into greased muffin pan, filling half full. Let rise in warm place (85°) until batter reaches 1/2″ from top of pans (about 40 minutes). Bake in moderate oven (375°) 20 to 25 minutes, depending on size of pans, or until brown. To test, tap top crust; it should sound hollow. Immediately remove from pans to rack. Brush tops with melted butter or shortening. Do not place in direct draft. Makes nine to 12 rolls.
More Recipes For You To Enjoy: