This promo recipe was clipped from a label of canned Libby's Pumpkin and found in a large collection, date unknown. I've typed it below along with a scanned copy.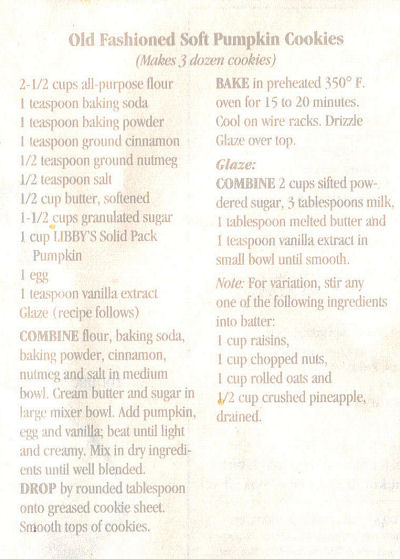 Old Fashioned Soft Pumpkin Cookies
(Makes 3 dozen cookies)
2-1/2 cups all-purpose flour
1 teaspoon baking soda
1 teaspoon baking powder
1 teaspoon ground cinnamon
1/2 teaspoon ground nutmeg
1/2 teaspoon salt
1/2 cup butter, softened
1-1/2 cups granulated sugar
1 cup LIBBY'S Solid Pack Pumpkin
1 egg
1 teaspoon vanilla extract
Glaze (recipe follows)
COMBINE flour, baking soda, baking powder, cinnamon, nutmeg and salt in medium bowl. Cream butter and sugar in large mixer bowl. Add pumpkin, egg and vanilla; beat until light and creamy. Mix in dry ingredients until well blended.
DROP by rounded tablespoon onto greased cookie sheet. Smooth tops of cookies.
BAKE in preheated 350° F. oven for 15 to 20 minutes. Cool on wire racks. Drizzle Glaze over top.
Glaze:
COMBINE 2 cups sifted powdered sugar, 3 tablespoons milk, 1 tablespoon melted butter and 1 teaspoon vanilla extract in small bowl until smooth.
Note: For variation, stir any one of the following ingredients into batter:
1 cup raisins,
1 cup chopped nuts,
1 cup rolled oats and
1/2 cup crushed pineapple, drained.
More Recipes For You To Enjoy: