This is an Ann Pillsbury recipe card that was published in 1951, it folds over with the recipe on one part while the other part of the card includes a coupon with descriptions for the Coupon Plan. Recipe is typed out in full below with a scan of the card, click it to view a larger copy if you like.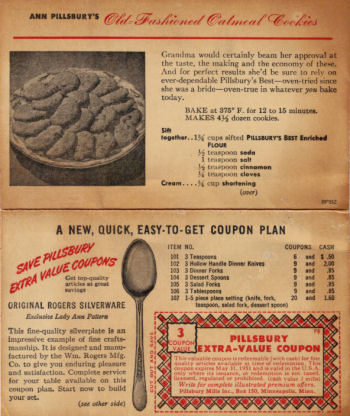 ANN PILLSBURY'S Old Fashioned Oatmeal Cookies
Grandma would certainly beam her approval at the taste, the making and the economy of these. And for perfect results she'd be sure to rely on ever-dependable Pillsbury's Best–oven-tried since she was a bride–oven-true in whatever you bake today.
BAKE at 375° F. for 12 to 15 minutes.
MAKES 4 1/2 dozen cookies.
Sift together . . . 1 3/4 cups sifted PILLSBURY'S Best Enriched FLOUR
1/2 teaspoon soda
1 teaspoon salt
1/2 teaspoon cinnamon
1/4 teaspoon cloves
Cream . . . 3/4 cup shortening
Add gradually . . . 1/2 cup granulated sugar and
1 cup firmly packed brown sugar;
cream well.
Blend in . . . 1 egg; beat well.
Combine . . . 1/2 cup buttermilk or sour milk
1/4 cup light corn syrup
1 teaspoon vanilla
Add . . . dry and liquid ingredients alternately to creamed mixture, beating well after each addition.
Blend in . . . 2 cups rolled oats
1 cup chopped nut meats
1 cup raisins
Drop . . . by rounded tablespoonfuls onto greased baking sheet; allow room for spreading.
Bake . . . in moderate oven (375° F.) for 12 to 15 minutes. Do not stack or store until cold.
More Recipes For You To Enjoy: