This handwritten recipe was found in a large collection, date unknown. Recipe is typed below along with a scanned copy (front side only).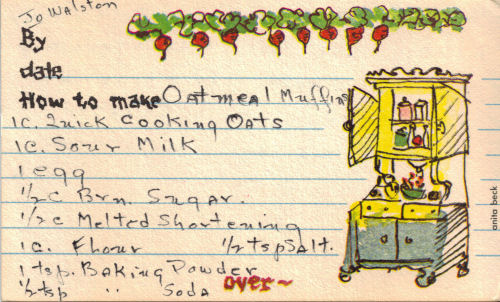 How to make Oatmeal Muffins
1 c. Quick Cooking Oats
1 c. Sour milk
1 egg
1/2 c. Brn. Sugar
1/2 c. Melted Shortening
1 c. Flour
1/2 tsp Salt
1 tsp. Baking Powder
1/2 tsp " Soda
Soak oatmeal in sour milk 1 hour. Add egg. Beat well. Add sugar & mix. Add cooled short. Add flour – salt – B.P. & Soda. Bake in greased muffin tins 400° 15-20 min. Can add chopped nuts.
More Recipes For You To Enjoy: