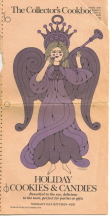 This recipe is from the Woman's Day Kitchen Issue #239 dated December 1976.
The Nut Caramels recipe was highlighted with a red crayon–must be one of the better recipes in the booklet ;).
Nut Caramels
1 cup heavy cream mixed with 1/2 cup milk
1/2 cup granulated sugar
1/2 cup packed light-brown sugar
3/4 cup light corn syrup
Dash of salt
1/2 teaspoon vanilla
1/2 cup chopped almonds, lightly toasted (optional)
2 Tablespoons butter or margarine
In large heavy saucepan mix 3/4 cup cream mixture, sugars, corn syrup and salt. Bring to boil over medium heat, stirring to dissolve sugars. Set candy thermometer in pan and cook syrup, stirring occasionally, to 234 degrees (soft-ball stage). Very slowly stir in remaining 3/4 cup cream mixture so that syrup mixture continues to boil. Cook, stirring occasionally, to 244 degrees (firm-ball stage). Remove from heat; stir in vanilla, almonds and butter. Pour into greased 9x5x3-inch loaf pan. Cool completely at room temperature. Turn out of pan onto board. Using knife or kitchen scissors dipped in hot water, cut in pieces or squares. Wrap each in plastic wrap. Store airtight in cool dry place. Makes about 1-1/4 pounds.
More Recipes For You To Enjoy: