This is a full page magazine ad for Pillsbury's Best Enriched Flour from 1945. The recipe is typed in full below, you can click the picture to view a larger copy if you like.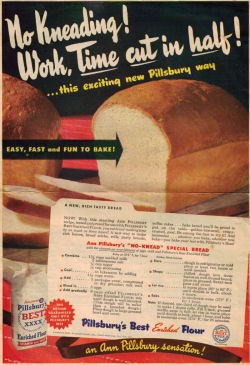 No Kneading!
Work, Time cut in half!
. . . this exciting new Pillsbury way
EASY, FAST and FUN TO BAKE!
A NEW, RICH TASTY BREAD
NOW! With this startling ANN PILLSBURY recipe, tested and proved for use with PILLSBURY'S BEST Enriched FLOUR, you cut bread-making time by as much as three hours! A new way to make rich loaves, bread sticks, rolls, party breads, coffee cakes . . . bake bread you'll be proud to put on the table–golden-textured, crispy-crusted, good. Be among the first to try it! And remember . . . whatever you bake, whenever you bake–you bake your best with Pillsbury's Best!
Ann Pillsbury's "NO-KNEAD" SPECIAL BREAD
with the stepped-up nourishment of eggs, milk and Pillsbury's Best Enriched Flour
Bake at 375° F. for 1 hour
Makes three loaves
Combine . . . 1 1/2 cups scalded milk
2 tablespoons salt
1/4 cup sugar
1/2 cup shortening
Cool . . . to lukewarm by adding
1 1/2 cups water.
Add . . . 3 packages yeast, compressed or dry granular; mix well.
Blend in . . . 3 eggs
Add gradually . . 9 cups sifted PILLSBURY'S BEST Enriched FLOUR; mix until dough is well-blended. (This dough will be softer than a kneaded dough.)
Place dough in large greased bowl and cover.
Store . . . dough in refrigerator or cold place at least two hours or until needed.
Shape . . . chilled dough into three loaves on well-floured board; place in greased, 9x4x3-inch pans and cover.
Let rise . . . in warm place (80° to 85° F.) until double in bulk, about 2 hours.
Bake . . . in moderate oven (375° F.) for 1 hour.
Note: If desired, one-third of dough may be used to make 1 dozen rolls. Fill 3-inch, greased muffin pans 1/2 full; let rise in warm place until double in bulk, about 1 hour, and bake in moderate oven (375° F.) for 25 minutes.
THIS METHOD GUARANTEED ONLY WITH PILLSBURY'S BEST
Pillsbury's Best Enriched Flour
an Ann Pillsbury sensation!
More Recipes For You To Enjoy: