This promo recipe slip from Knox Unflavored Gelatine was found in a large collection, date unknown. I've typed it out below along with scanned copies of both sides of the slip. I've also included a scan of a different clipping for the same recipe (though it calls for a Keebler Ready-Crust pie crust rather than a Johnston's pie crust). You'll find that scan at the bottom.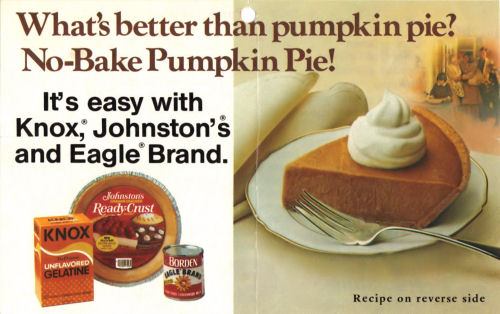 No-Bake Pumpkin Pie
(Makes one pie)
1 envelope Knox Unflavored Gelatine
1 teaspoon ground cinnamon
1/2 teaspoon ground ginger
1/2 teaspoon ground nutmeg
1/2 teaspoon salt
1 (14-ounce) can Eagle Brand Sweetened Condensed Milk (NOT evaporated)
2 eggs, well beaten
1 (16-ounce) can pumpkin (about 2 cups)
1 Johnston's graham cracker Ready-Crust pie crust
In heavy medium saucepan, combine unflavored gelatine, cinnamon, ginger, nutmeg and salt; stir in sweetened condensed milk and eggs. Mix well. Let stand 1 minute. Over low heat, cook and stir constantly until gelatine dissolves and mixture thickens slightly, about 10 minutes. Remove from heat. Stir in pumpkin; mix well. Pour into prepared crust. Chill 3 hours or until set. Garnish as desired. Refrigerate leftovers.
PUMPKIN TARTS: Prepare filling as directed; spoon about 1/4 cup into each of 12 Johnston's graham cracker Ready-Crust tart-size crusts. Chill until set.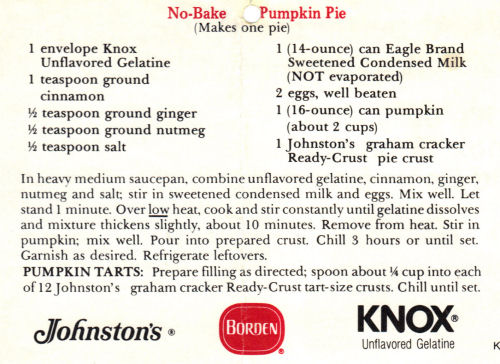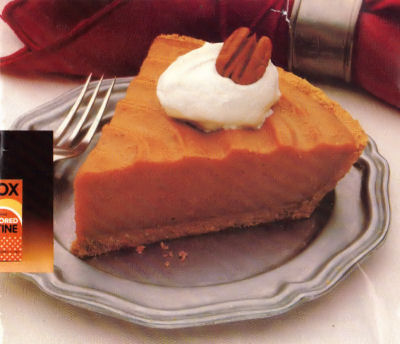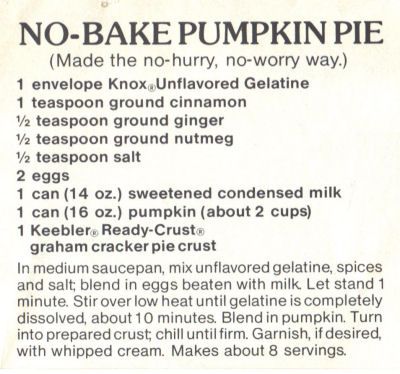 More Recipes For You To Enjoy: