This recipe was clipped from a newspaper and found in a large collection, date unknown. There's a separate clipping giving advice for this recipe. I've typed both below along with scanned copies.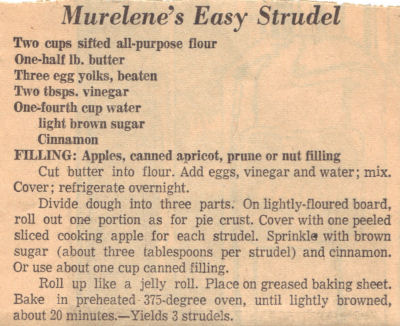 Murelene's Easy Strudel
Two cups sifted all-purpose flour
One-half lb. butter
Three egg yolks, beaten
Two tbsps. vinegar
One-fourth cup water
light brown sugar
Cinnamon
FILLING: Apples, canned apricot, prune or nut filling
Cut butter into flour. Add eggs, vinegar and water; mix. Cover; refrigerate overnight.
Divide dough into three parts. On lightly-floured board, roll out one portion as for pie crust. Cover with one peeled sliced cooking apple for each strudel. Sprinkle with brown sugar (about thee tablespoons per strudel) and cinnamon. Or use about one cup canned filling.
Roll up like a jelly roll. Place on greased baking sheet. Bake in preheated 375-degree oven, until lightly browned, about 20 minutes.–Yields 3 strudels.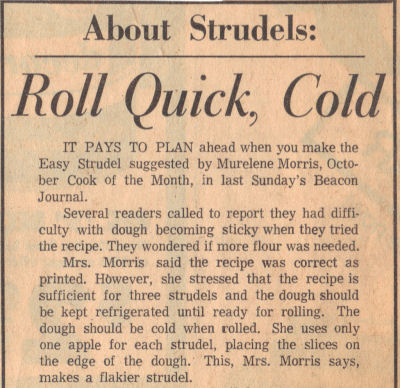 About Strudels:
Roll Quick, Cold
IT PAYS TO PLAN ahead when you make the Easy Strudel suggested by Murelene Morris, October Cook of the Month, in last Sunday's Beacon Journal.
Several readers called to report they had difficulty with dough becoming sticky when they tried the recipe. They wondered if more flour was needed.
Mrs. Morris said the recipe was correct as printed. However, she stressed that the recipe is sufficient for three strudels and the dough should be kept refrigerated until ready for rolling. The dough should be cold when rolled. She uses only one apple for each strudel, placing the slices on the edge of the dough. This, Mrs. Morris says, makes a flakier strudel.
More Recipes For You To Enjoy: