This recipe was clipped from a newspaper and pasted onto an index card, date unknown. It must have been a favorite since it's quite stained. I've typed it below along with a scanned copy.
MORE BEANS THAN MEAT
1 lb. (2 cups) dry red kidney beans
3 tblsp. fat
1 lb. lean chuck beef cubes
2 cloves garlic, crushed
2 medium onions, chopped
1 can (1 lb.) tomatoes
Salt, pepper, chili powder, sugar
Ground cumin (if desired)
Soak and cook beans (without salt) according to standard directions; reserve bean cooking liquid. Melt fat in large skillet or Dutch oven; add beef, onion, green pepper and garlic; brown fast. Add tomatoes, salt, pepper, chili powder, sugar, cumin (if used) to taste. Simmer, covered, until beef is tender — about 1 hour.
Add drained beans and 1 1/2 cup bean liquid or part water. Add more seasonings, if needed. Simmer 1/2 hour uncovered and stirring gently several times.
Refrigerate overnight and reheat slowly, adding a little stock or water if necessary. Makes 6 to 8 servings. Add at least 3 tablespoons chili powder to the meat and beans for a somewhat "hot" flavor.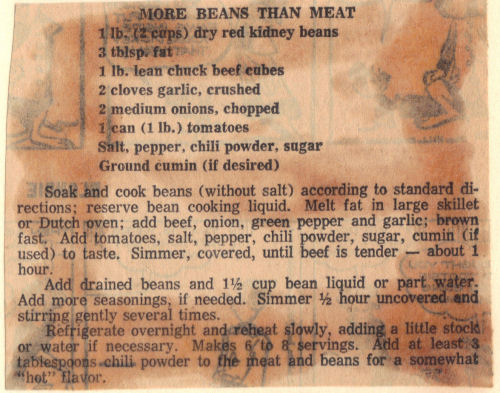 More Recipes For You To Enjoy: