This is a promo recipe card for JELL-O that looks like it could be part of a magazine pull-out page and was found in a large collection, date unknown. Recipe is typed below along with a scanned copy.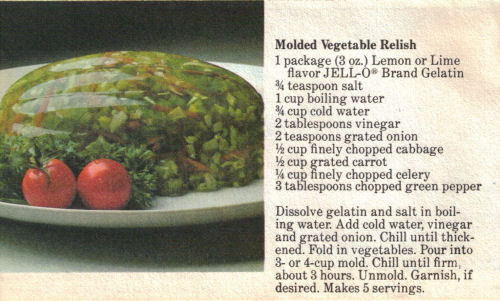 Molded Vegetable Relish
1 package (3 oz.) Lemon or Lime flavor JELL-O Brand Gelatin
3/4 teaspoon salt
1 cup boiling water
3/4 cup cold water
2 tablespoons vinegar
2 teaspoons grated onion
1/2 cup finely chopped cabbage
1/2 cup grated carrot
1/4 cup finely chopped celery
3 tablespoons chopped green pepper
Dissolve gelatin and salt in boiling water. Add cold water, vinegar and grated onion. Chill until thickened. Fold in vegetables. Pour into 3- or 4-cup mold. Chill until firm, about 3 hours. Unmold. Garnish, if desired. Makes 5 servings.
More Recipes For You To Enjoy: