This is a promo card for Knox Gelatine that is part of a collectible set (of 24), they measure 3 1/4″ x 2 1/4″ (approx). This was found in a large collection of recipes and I'll be sharing a few of these cards here on RecipeCurio. Date is unknown. Card is typed below along with a scanned copy (of both front and back).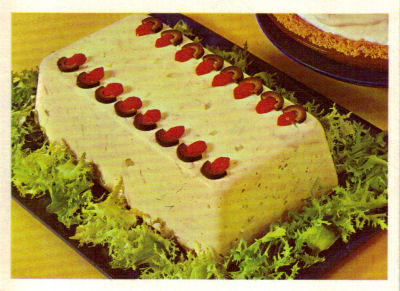 Series 1
No. 1
Set of 24
MOLDED CHICKEN SALAD
2 envelopes Knox Unflavored Gelatine
1 cup cold water
1 can (10 1/2 ounces) condensed cream of celery soup
1/2 teaspoon salt
2 tablespoons lemon juice
1 teaspoon instant minced onion
1 cup salad dressing
2 tablespoons diced pimiento
1 cup diced celery
2 cups diced cooked chicken
Sprinkle gelatine over water in medium saucepan. Place over low heat; stir constantly until gelatine dissolves, about 4 minutes. Remove from heat; stir in undiluted cream of celery soup, salt, lemon juice, instant minced onion and salad dressing; beat with rotary beater until smooth. Chill, stirring occasionally, until mixture mounds when dropped from a spoon. Add celery and chicken. Turn into a 6-cup loaf pan or mold. Chill until firm. YIELD: 6 servings.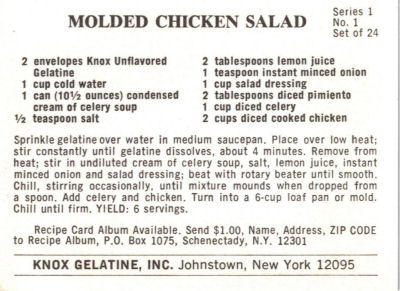 More Recipes For You To Enjoy: