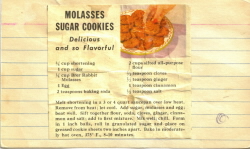 This is a clipped recipe from a magazine then glued on a white index card. Date unknown.
MOLASSES SUGAR COOKIES
Delicious and so Flavorful
3/4 cup shortening
1 cup sugar
1/4 cup Brer Rabbit Molasses
1 Egg
2 teaspoons baking soda
2 cups sifted all-purpose flour
1/2 teaspoon cloves
1/2 teaspoon ginger
1 teaspoon cinnamon
1/2 teaspoon salt
Melt shortening in a 3 or 4 quart saucepan over low heat. Remove from heat; let cool. Add sugar, molasses and egg; beat well. Sift together flour, soda, cloves, ginger, cinnamon and salt; add to first mixture. Mix well; chill. Form in 1 inch balls, roll in granulated sugar and place on greased cookie sheets two inches apart. Bake in moderately hot oven, 375° F., 8-10 minutes.
More Recipes For You To Enjoy: