This promo recipe from Ritz – Nabisco Kitchens was clipped from cardboard packaging of some kind, likely a box of Ritz Crackers since it's a required ingredient. Date unknown. I've typed it below along with a scanned copy.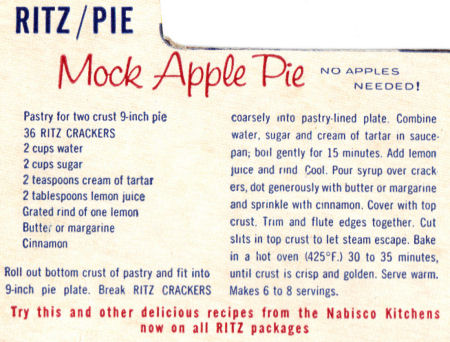 RITZ/PIE
Mock Apple Pie
NO APPLES NEEDED!
Pastry for two crust 9-inch pie
36 RITZ CRACKERS
2 cups water
2 cups sugar
2 teaspoons cream of tartar
2 tablespoons lemon juice
Grated rind of one lemon
Butter or margarine
Cinnamon
Roll out bottom crust of pastry and fit into 9-inch pie plate. Break RITZ CRACKERS coarsely into pastry-lined plate. Combine water, sugar and cream of tartar in saucepan; boil gently for 15 minutes. Add lemon juice and rind. Cool. Pour syrup over crackers, dot generously with butter or margarine and sprinkle with cinnamon. Cover with top crust. Trim and flute edges together. Cut slits in top crust to let steam escape. Bake in a hot oven (425°F.) 30 to 35 minutes, until crust is crisp and golden. Serve warm. Makes 6 to 8 servings.
More Recipes For You To Enjoy: