This handwritten recipe card was found in a large collection, date unknown. It's a little different since the sauce is a mixture of chili sauce and grape jelly, interesting! I've typed it below along with a scanned copy (front side only).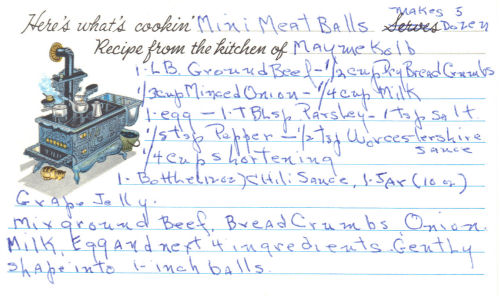 Mini Meat Balls
Makes 5 dozen
1 lb ground beef
1/2 c. dry bread crumbs
1/3 c minced onion
1/4 c. milk
1 egg
1 TBLsp Parsley
1 tsp salt
1/8 tsp pepper
1/2 tsp Worcestershire sauce
1/4 c shortening
1 bottle (12 oz) chili sauce
1 jar (10 oz) grape jelly
Mix ground beef, bread crumbs, onion, milk, egg and next 4 ingredients. Gently shape into 1-inch balls.
Melt shortening in large skillet, brown meatballs. Remove meatballs from skillet. Pour off fat. Heat chili sauce and jelly in skillet until jelly is melted. Add meatballs & stir until thoroughly coated.
Simmer uncovered 30 minutes. Makes 5 dozen appetizers, Very Good!
More Recipes For You To Enjoy: