This recipe was clipped from the Farm Journal magazine, date unknown. Recipe is typed below along with a scanned copy.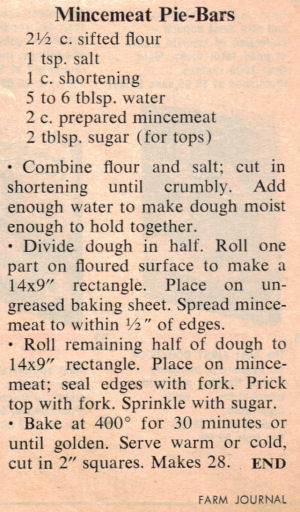 Mincemeat Pie-Bars
2 1/2 c. sifted flour
1 tsp. salt
1 c. shortening
5 to 6 tblsp. water
2 c. prepared mincemeat
2 tblsp. sugar (for tops)
Combine flour and salt; cut in shortening until crumbly. Add enough water to make dough moist enough to hold together.
Divide dough in half. Roll one part on floured surface to make a 14×9″ rectangle. Place on ungreased baking sheet. Spread mincemeat to within 1/2″ of edges.
Roll remaining half of dough to 14×9″ rectangle. Place on mincemeat; seal edges with fork. Prick top with fork. Sprinkle with sugar.
Bake at 400° for 30 minutes or until golden. Serve warm or cold, cut in 2″ squares. Makes 28.
More Recipes For You To Enjoy: