This promo recipe for Pet-Ritz was clipped from packaging of some kind and found in a large collection, date unknown. I've typed it below along with a scanned copy.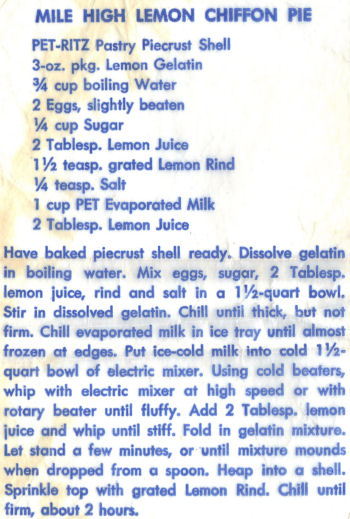 MILE HIGH LEMON CHIFFON PIE
PET-RITZ Pastry Piecrust Shell
3-oz. pkg. Lemon Gelatin
3/4 cup boiling Water
2 Eggs, slightly beaten
1/4 cup Sugar
2 Tablesp. Lemon Juice
1 1/2 teasp. grated Lemon Rind
1/4 teasp. Salt
1 cup PET Evaporated Milk
2 Tablesp. Lemon Juice
Have baked piecrust shell ready. Dissolve gelatin in boiling water. Mix eggs, sugar, 2 Tablesp. lemon juice, rind and salt in a 1 1/2-quart bowl. Stir in dissolved gelatin. Chill until thick, but not firm. Chill evaporated milk in ice tray until almost frozen at edges. Put ice-cold milk into cold 1 1/2-quart bowl of electric mixer. Using cold beaters, whip with electric mixer at high speed or with rotary beater until fluffy. Add 2 Tablesp. lemon juice and whip until stiff. Fold in gelatin mixture. Let stand a few minutes, or until mixture mounds when dropped from a spoon. Heap into a shell. Sprinkle top with grated Lemon Rind. Chill until firm, about 2 hours.
More Recipes For You To Enjoy: