This is the back of a promo recipe card (paper) that's likely from Cracker Barrel since its cheddar cheese is listed as an ingredient. This was found in a large collection, date unknown. Recipe is typed below along with a scanned copy.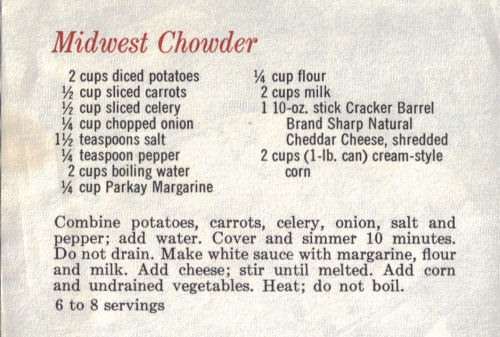 Midwest Chowder
2 cups diced potatoes
1/2 cup sliced carrots
1/2 cup sliced celery
1/4 cup chopped onion
1 1/2 teaspoons salt
1/4 teaspoon pepper
2 cups boiling water
1/4 cup Parkay margarine
1/4 cup flour
2 cups milk
1 10-oz. stick Cracker Barrel Brand Sharp Natural Cheddar Cheese, shredded
2 cups (1-lb. can) cream-style corn
Combine potatoes, carrots, celery, onion, salt and pepper; add water. Cover and simmer 10 minutes. Do not drain. Make white sauce with margarine, flour and milk. Add cheese; stir until melted. Add corn and undrained vegetables. Heat; do not boil.
6 to 8 servings
More Recipes For You To Enjoy: