This recipe was clipped from a newspaper article titled: "Make It Sweet And Make It Quick". Date unknown. Recipe is typed below along with a scanned copy (the last two lines of instructions are on a separate column so they're not showing in the scan).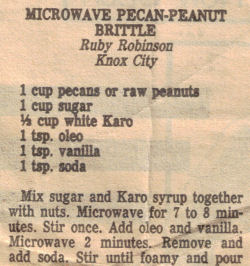 MICROWAVE PECAN-PEANUT BRITTLE
1 cup pecans or raw peanuts
1 cup sugar
1/2 cup white Karo
1 tsp. oleo
1 tsp. vanilla
1 tsp. soda
Mix sugar and Karo syrup together with nuts. Microwave for 7 to 8 minutes. Stir once. Add oleo and vanilla. Microwave 2 minutes. Remove and add soda. Stir until foamy and pour onto a buttered cookie sheet. When cool, break into pieces.
More Recipes For You To Enjoy: