This promo recipe was printed on the back of a label from a can of Eagle Brand Sweetened Condensed Milk and found in a large collection, date unknown. I've typed it below along with a scanned copy.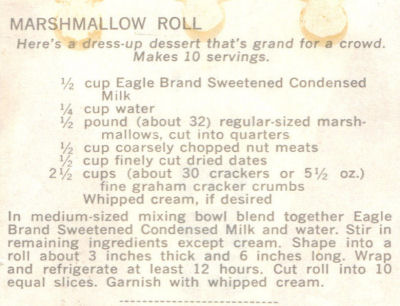 MARSHMALLOW ROLL
Here's a dress-up dessert that's grand for a crowd.
Makes 10 servings.
1/2 cup Eagle Brand Sweetened Condensed Milk
1/4 cup water
1/2 pound (about 32) regular-sized marshmallows, cut into quarters
1/2 cup coarsely chopped nut meats
1/2 cup finely cut dried dates
2 1/2 cups (about 30 crackers or 5 1/2 oz.) fine graham cracker crumbs
Whipped cream, if desired
In medium-sized mixing bowl blend together Eagle Brand Sweetened Condensed Milk and water. Stir in remaining ingredients except cream. Shape into a roll about 3 inches thick and 6 inches long. Wrap and refrigerate at least 12 hours. Cut roll into 10 equal slices. Garnish with whipped cream.
More Recipes For You To Enjoy: