This recipe was clipped from a label or packaging of some kind, probably Marshmallow Fluff, date is unknown. The recipe is typed below along with a scanned copy.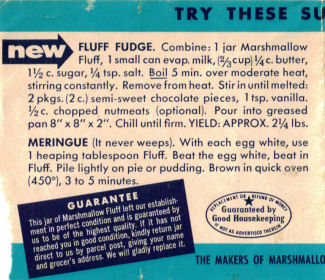 FLUFF FUDGE
Combine: 1 jar Marshmallow Fluff, 1 small can evap. milk, (2/3 cup) 1/4 c. butter, 1 1/2 c. sugar, 1/4 tsp. salt. Boil 5 min. over moderate heat, stirring constantly. Remove from heat. Stir in until melted: 2 pkgs. (2 c.) semi-sweet chocolate pieces, 1 tsp. vanilla. 1/2 c. chopped nutmeats (optional). Pour into greased pan 8″ x 8″ x 2″. Chill until firm. YIELD: APPROX. 2 1/4 lbs.
MERINGUE (It never weeps). With each egg white, use 1 heaping tablespoon Fluff. Beat the egg white, beat in Fluff. Pile lightly on pie or pudding. Brown in quick oven (450°), 3 to 5 minutes.
More Recipes For You To Enjoy: