This handwritten recipe card was found in a large collection, date unknown. I've typed it below (slight adjustments made for easier reading) along with a scanned copy.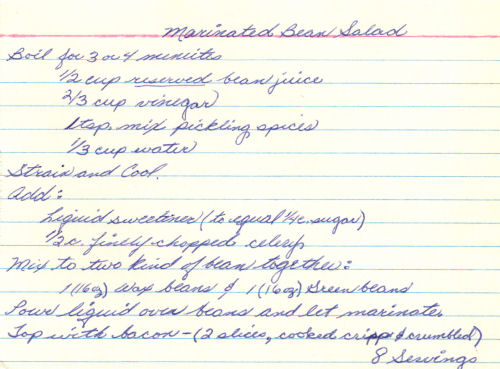 Marinated Bean Salad
Boil for 3 or 4 minutes:
1/2 cup reserved bean juice
2/3 cup vinegar
1 tsp. mix pickling spices
1/3 cup water
Strain and cool.
Add:
Liquid sweetener (to equal 1/4 c. sugar)
1/2 c. finely chopped celery
Mix two kinds of beans together:
1 (16 oz) wax beans & 1 (16 oz) green beans
Pour liquid over beans and let marinate.
Top with bacon – (2 slices, cooked crisp & crumbled)
8 servings
More Recipes For You To Enjoy: