This recipe was clipped from a newspaper, date unknown. Recipe is typed below along with a scanned copy.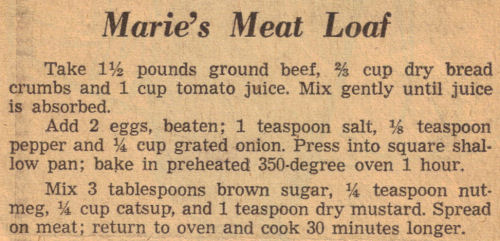 Marie's Meat Loaf
Take 1 1/2 pounds ground beef, 2/3 cup dry bread crumbs and 1 cup tomato juice. Mix gently until juice is absorbed.
Add 2 eggs, beaten; 1 teaspoon salt, 1/8 teaspoon pepper and 1/4 cup grated onion. Press into square shallow pan; bake in preheated 350-degree oven 1 hour.
Mix 3 tablespoons brown sugar, 1/4 teaspoon nutmeg, 1/4 cup catsup, and 1 teaspoon dry mustard. Spread on meat; return to oven and cook 30 minutes longer.
More Recipes For You To Enjoy: