This recipe was clipped from the Akron Beacon Journal and published in 1980. Recipes are typed below along with a scanned copy of the article.
A very special treat:
homemade ice cream
If you care to take the time, homemade ice cream provides a nice finish to an outdoor barbecue with friends.
Set up the freezer in the backyard just about the time guests are finished with the hot dogs and hamburgers.
Here's a recipe to sweeten up your barbeque.
Ice cream
1 1/2 cups sugar
Pinch salt
3/4 cup cocoa
5 eggs
1 large can evaporated milk
2 quarts homogenized milk
4 tbsp. vanilla
To make chocolate ice cream: Mix the above ingredients in order listed. Put in cannister and churn-freeze. Layer rock salt and ice (according to instructions for your freezer) between cannister and inner wall of bucket. Churn-freeze. Makes six quarts.
To make vanilla ice cream: Eliminate cocoa from above recipe and prepare as directed, but add two more tablespoons of vanilla.
Strawberry ice cream: Using above recipe, omit two cups milk and add one quart crushed strawberries after ice cream has begun to set up.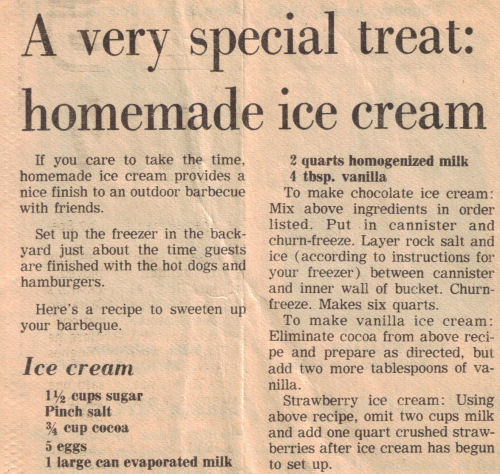 More Recipes For You To Enjoy: