This is a little pamphlet from Cream Corn Starch with a few recipes plus instructions on how to make your own cake flour. Instructions follow the graphic below: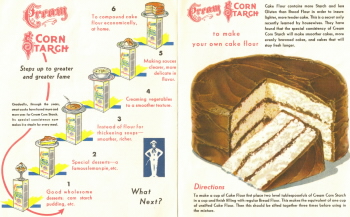 Cream Corn Starch to make your own cake flour
Cake Flour contains more Starch and less Gluten than Bread Flour in order to insure lighter, more tender cake. This is a secret only recently learned by housewives. They have found that the special consistency of Cream Corn Starch will make smoother cakes, more evenly browned cakes, and cakes that will stay fresh longer.
Directions
To make a cup of Cake Flour first place two level tablespoonfuls of Cream Corn Starch in a cup and finish filling with regular Bread Flour. This makes the equivalent of one cup of unsifted Cake Flour. Then this should be sifted together three times before using in the mixture.
More Recipes For You To Enjoy: