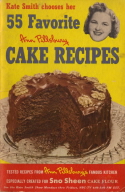 Here are pages 14, 15, 16 and 17 from the vintage cookbook "Kate Smith chooses her 55 Favorite Ann Pillsbury CAKE RECIPES". This was published in 1952 by Pillsbury Mills, Inc. Kate Smith was a popular singer and radio personality with a career that began in the 1930s.
You can view all the pages in this cookbook by visiting this category: 55 Favorite Cake Recipes: Kate Smith, just click a page title to view that section. There is a scan of the page included below, you can click the image to view a larger copy.
This is the Easy Way to Make a Quick-Mix Shortening Cake
The Quick-Mix Method is a relatively new but very popular way of making light, velvety cakes in a very short time. There's no creaming of shortening and sugar, no beating of eggs separately; all the ingredients are mixed together in just one bowl. But best of all, Quick-Mix cakes are delicious! Here are our suggestions for Quick-Mix success: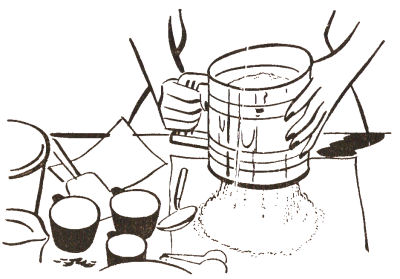 Ingredients should be at room temperature unless otherwise specified in recipe. A high-grade "Quick-Mix" or hydrogenated shortening is recommended–either animal or vegetable. Butter, lard or margarine may also be used–the general rule when using them is to decrease each cup of milk by 2 tablespoons.
Standard-size measuring cups and spoons are a necessity. Dry ingredients are most accurately measured in graduated cups since they can be leveled; liquids are easily measured in glass cups and should be read at eye level. Sift flour before measuring.
Use pan size specified in recipe for best results. Measure diameter of round pans or top inside length and width of rectangular pans–then inside depth. If pan is too small, cake will hump or crack; if too large, cake will be undersized. The following pans are equivalent in size and can generally be used inter-changeably.
Two 8-inch round layer cake pans = 9x9x2-inch square pan, 12x8x2-inch rectangular pan or about 24 cupcakes.
Two 9-inch round layer cake pans = two 8-inch square layer cake pans or 13x9x2-inch rectangular pan.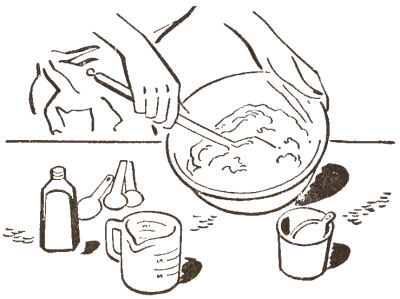 Beat the batter the full amount of time listed in recipe, 150 strokes per minute. If an electric mixer is used, blend at low speed to avoid spattering, then beat at medium speed (middle of the dial) for length of time given in recipe.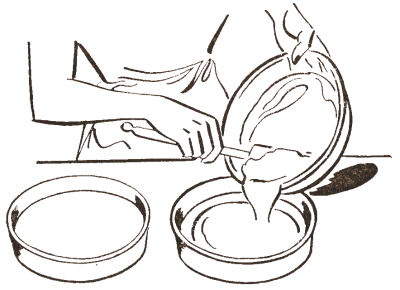 Prepare pans by generously greasing bottom (not sides) and lightly coating with flour.
Batter may be divided by measurement or weight to obtain layers of equal height. Do not fill pans more than half full. Cut through batter several times with spatula to break large air pockets.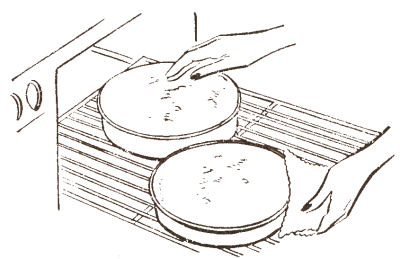 Preheat oven. Bake two 8-inch layers on rack centered in oven. For larger cakes, or three layers, stagger pans on two racks so pans do not touch each other or oven walls.
If glass baking pan is used decrease oven temperature 25° F., as glass pans absorb more heat than metal.
Cake is done if it springs back when touched lightly in center or recedes slightly from edge of pan.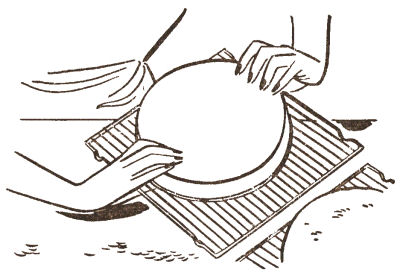 Cool cake 10 to 15 minutes on rack before removing from pan. Then run spatula around side of pan to release cake. Turn out on rack to cool, right side up. If cake is cooled on plate or board, it steams, making bottom surface soggy.
Conventional Method Cakes
A few of the cakes in this chapter are made by the conventional method–that is, shortening and sugar are creamed thoroughly, and dry and liquid ingredients are added alternately. Cakes made this way are light and fluffy if you remember these pointers:
Cream shortening and sugar thoroughly–have shortening at room temperature for easy creaming. The sugar should be gradually added to shortening until the mixture is very light and fluffy. An electric mixer can do this very quickly. A wooden spoon is good for creaming by hand.
Add the flour mixture and liquid alternately–beginning with about 1/3 of flour mixture, then about 1/2 of liquid. Beat only until batter is smooth. Add another 1/3 of flour, then balance of milk. Always begin and end with flour. The batter may curdle if liquid is added first. Blend well after each addition, but do not overbeat after liquid and flour have been added.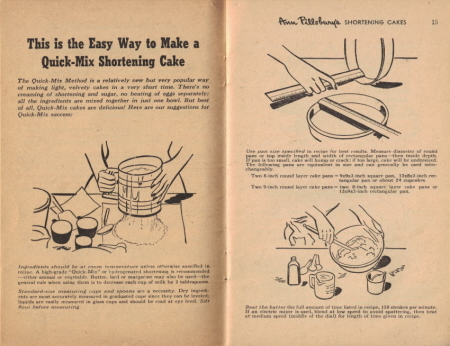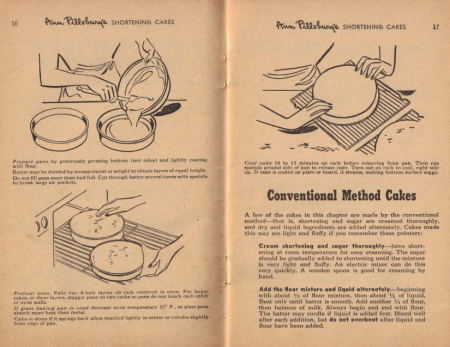 More Recipes For You To Enjoy: