This is the second prize-winning recipe for fruitcake that was published by Family Weekly in 1957 (the first is here: Pecan Fruitcake), I've typed it out below as well as scanned a copy to archive.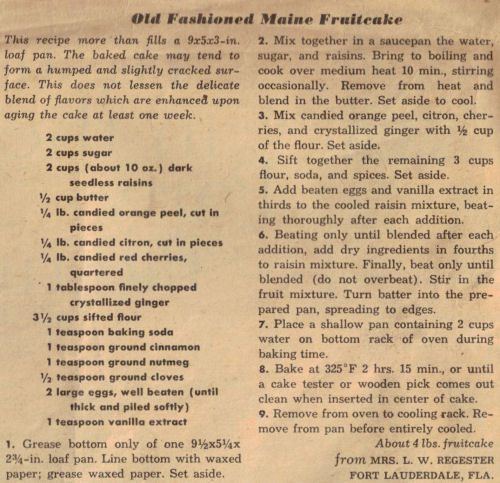 PRIZE-WINNING HOLIDAY CAKES from FAMILY WEEKLY READERS
Old Fashioned Maine Fruitcake
This recipe more than fills a 9x5x3-in. loaf pan. The baked cake may tend to form a humped and slightly cracked surface. This does not lessen the delicate blend of flavors which are enhanced upon aging the cake at least one week.
2 cups water
2 cups sugar
2 cups (about 10 oz.) dark seedless raisins
1/2 cup butter
1/4 lb. candied orange peel, cut in pieces
1/4 lb. candied citron, cut in pieces
1/4 lb. candied red cherries, quartered
1 tablespoon finely chopped crystallized ginger
3 1/2 cups sifted flour
1 teaspoon baking soda
1 teaspoon ground cinnamon
1 teaspoon ground nutmeg
1/2 teaspoon ground cloves
2 large eggs, well beaten (until thick and piled softly)
1 teaspoon vanilla extract
Grease bottom only of one 9 ½ x 5 ¼ x 2 ¾ -in. loaf pan. Line bottom with waxed paper; grease waxed paper. Set aside.
Mix together in a saucepan the water, sugar, and raisins. Bring to boiling and cook over medium heat 10 min., stirring occasionally. Remove from heat and blend in the butter. Set aside to cool.
Mix candied orange peel, citron, cherries, and crystallized ginger with 1/2 cup of the flour. Set aside.
Sift together the remaining 3 cups flour, soda, and spices. Set aside.
Add beaten eggs and vanilla extract in thirds to the cooled raisin mixture, beating throughly after each addition.
Beating only until blended after each addition, add dry ingredients in fourths to raisin mixture. Finally, beat only until blended (do not overbeat). Stir in the fruit mixture. Turn batter into the prepared pan, spreading to edges.
Place a shallow pan containing 2 cups water on bottom rack of oven during baking time.
Bake at 325°F 2 hrs. 15 min., or until a cake tester or wooden pick comes out clean when inserted in center of cake.
Remove from oven to cooling rack. Remove from pan before entirely cooled.
About 4 lbs. fruitcake
More Recipes For You To Enjoy: