This recipe was written on a lined index card and found in a large collection, date unknown. I've typed it below along with a scanned copy.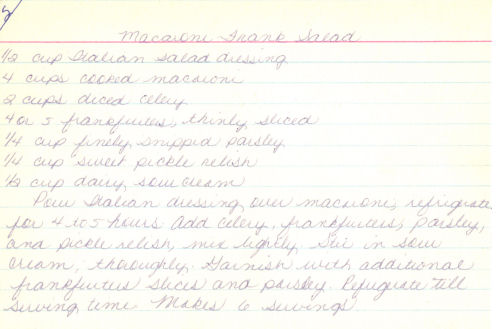 Macaroni – Frank Salad
1/2 cup Italian salad dressing
4 cups cooked macaroni
2 cups diced celery
4 or 5 frankfurters, thinly sliced
1/4 cup finely snipped parsley
1/4 cup sweet pickle relish
1/2 cup dairy sour cream
Pour Italian dressing over macaroni, refrigerate for 4 to 5 hours. Add celery, frankfurters, parsley, and pickle relish, mix lightly. Stir in sour cream, thoroughly. Garnish with additional frankfurter slices and parsley. Refrigerate till serving time.
Makes 6 servings.
More Recipes For You To Enjoy: