This handwritten recipe card was found in a large collection, date unknown. I've typed it below along with a scanned copy.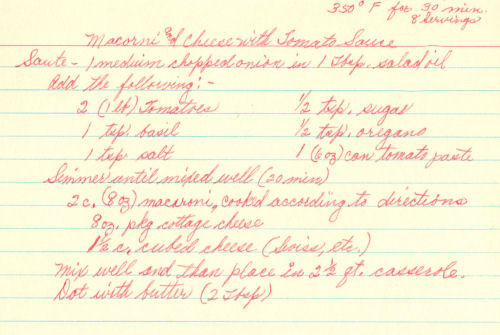 Macaroni And Cheese With Tomato Sauce
350°F for 30 min.
8 servings
Saute – 1 medium chopped onion in 1 Tbsp. salad oil
Add the following:
2 (1 lb) tomatoes
1 tsp. basil
1 tsp salt
1/2 tsp sugar
1/2 tsp oregano
1 (6 oz) can tomato paste
Simmer until mixed well (20 min.)
2 c. (8 oz) macaroni, cooked according to directions
8 oz. pkg cottage cheese
1 1/2 c. cubed cheese (Swiss, etc.)
Mix well and then place in 2 1/2 qt. casserole.
Dot with butter (2 Tbsp)
More Recipes For You To Enjoy: