This is a recipe pamphlet from Dromedary for their Gingerbread Mix and Dates. There's no date anywhere but this would have been published shortly after WWII since it mentions food shortages easing. The full sheet is typed below along with scans of both sides, you can click them to view a larger copy.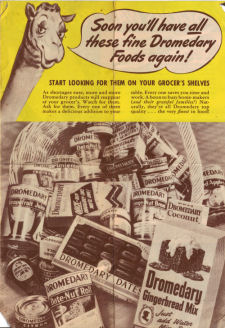 Soon you'll have all these fine Dromedary Foods again!
START LOOKING FOR THEM ON YOUR GROCER'S SHELVES
As shortages ease, more and more Dromedary products will reappear at your grocer's. Watch for them. Ask for them. Every one of them makes a delicious addition to your table. Every one saves you time and work. A boon to busy home-makers (and their grateful families!) Naturally, they're all Dromedary top quality . . . the very finest in food!
LUSCIOUS WAYS TO BAKE DROMEDARY GINGERBREAD MIX
SAVE YOUR PRECIOUS SUGAR: Bake your most delicious home-made desserts with Dromedary Gingerbread Mix. World's most famous recipe . . . yet all you do is add water . . . right from the tap!
Dromedary Mix is based on the treasured (and justly famous) recipe of George Washington's mother. Accurately blended of the choicest, most wholesome ingredients obtainable, Dromedary Mix makes rich, delectable gingerbread . . . finest you can bake or buy. Still it actually costs you less to use Dromedary than to buy all the makings yourself!
Toppings illustrated take little or no sugar.
WITH ICE CREAM (OR WHIPPED CREAM): America's No. 1 Dessert! Especially delicious when gingerbread is served hot.
CUP CAKES: Add one cup water to Mix. Fill greased muffin pans 1/2 full. Bake in moderate oven (350°) about 20 minutes. Fill with fluffy cream cheese or applesauce. Or frost them. A nourishing lunch box treat.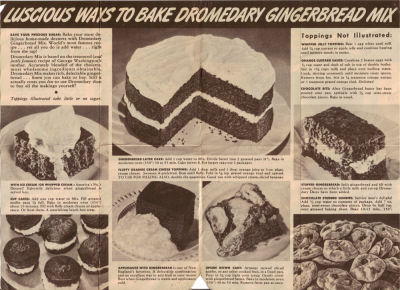 GINGERBREAD LAYER CAKE: Add 1 cup water to Mix. Divide batter into 2 greased pans (8″). Bake in moderate oven (350°) 30 to 35 min. Cake serves 8. For larger cake use 2 packages.
FLUFFY ORANGE CREAM CHEESE TOPPING: Add 1 tbsp. milk and 1 tbsp. orange juice to 3-oz. pkge. cream cheese. Sweeten if preferred. Beat until fluffy. Fold in 1/2 tsp. grated orange rind and spread. TO USE FOR FILLING ALSO, double the quantities. Good too with whipped cream, sliced bananas.
APPLESAUCE WITH GINGERBREAD is one of New England's favorites. A delectable combination and an excellent way to add fruit to your menu. Best when Gingerbread is warm and applesauce cold.
UPSIDE DOWN CAKE:
Arrange stewed sliced apples, or any other cooked fruit, in a lined pan. Pour in 1/4 cup light corn syrup. Gently cover with gingerbread batter. Bake in moderate oven (350°) 40 to 50 min. Remove from pan at once.
Toppings Not Illustrated:
WHIPPED JELLY TOPPING: Beat 1 egg white until stiff. Add 1/4 cup currant or apple jelly and continue beating until mixture stands in peaks.
ORANGE CUSTARD SAUCE: Combine 2 beaten eggs with 1/3 cup sugar and dash of salt in top of double boiler. Stir in 1 1/2 cups milk and place over boiling water. Cook, stirring constantly until moisture coats spoon. Remove from fire. Stir in 1/4 teaspoon orange extract or 1 teaspoon grated orange rind. Delicious!
CHOCOLATE BITS: After Gingerbread batter has been poured onto pan, sprinkle with 1/2 cup semi-sweet chocolate pieces. Bake as usual.
STUFFED GINGERBREAD: Split gingerbread and fill with cream cheese to which a little milk and cut-up Dromedary Dates have been added.
CHOCOLATE STUDDED GINGIES: Service men's delight! Add 1/3 cup water to contents of package. Add 7 oz. pkge. semi-sweet chocolate pieces. Drop by half tsp. onto greased baking sheet. Bake 10-12 min., 350°.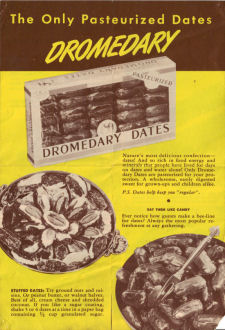 The Only Pasteurized Dates
DROMEDARY
Nature's most delicious confection–dates! And so rich in food energy and minerals that people have lived for days on dates and water alone! Only Dromedary Dates are pasteurized for your protection. A wholesome, easily digested sweet for grown-ups and children alike.
P.S. Dates help keep you "regular".
EAT THEM LIKE CANDY
Ever notice how guests make a bee-line for dates? Always the most popular refreshment at any gathering.
STUFFED DATES: Try ground nuts and raisins. Or peanut butter, or walnut halves. Best of all, cream cheese and shredded coconut. If you like a sugar coating, shake 5 or 6 dates at a time in a paper bag containing 1/3 cup granulated sugar.
More Recipes For You To Enjoy: