This recipe was written on a lined index card and found in a large collection, date unknown. Recipe is typed below along with a scanned copy.
Luau Chicken Salad
2 c. diced, cooked chicken
1 c. pineapple chunks, drained
1 c. diced celery
1/4 c. flaked coconut
1/4 c. chopped toasted almonds
1 c. mayonnaise
Fresh pineapple, cut in half lengthwise
Combine and chill. Cut a fresh pineapple in half lengthwise and scoop out the fruit, sugar and serve with the salad.
The chicken salad is served in the scooped out pineapple shells.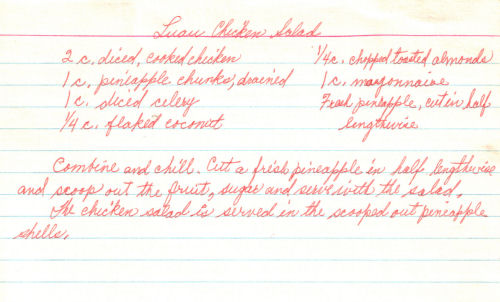 More Recipes For You To Enjoy: