This recipe was clipped from a magazine, date unknown. Recipe is typed below along with a scanned copy.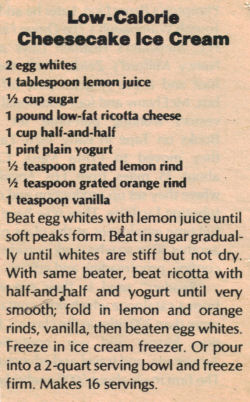 Low-Calorie
Cheesecake Ice Cream
2 egg whites
1 tablespoon lemon juice
1/2 cup sugar
1 pound low-fat ricotta cheese
1 cup half-and-half
1 pint plain yogurt
1/2 teaspoon grated lemon rind
1/2 teaspoon grated orange rind
1 teaspoon vanilla
Beat egg whites with lemon juice until soft peaks form. Beat in sugar gradually until whites are stiff but not dry. With same beater, beat ricotta with half-and-half and yogurt until very smooth; fold in lemon and orange rinds, vanilla, then beaten egg whites. Freeze in ice cream freezer. Or pour into a 2-quart serving bowl and freeze firm. Makes 16 servings.
More Recipes For You To Enjoy: