This is a handwritten recipe card from a large collection of old recipes, date unknown. Recipe is typed below along with a scanned copy which you can click to view a large size if you like.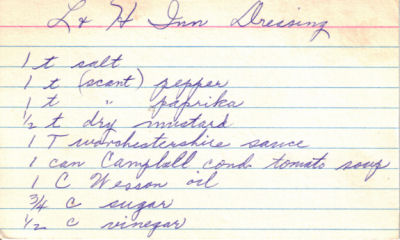 L & H Inn Dressing
1 t salt
1 t (scant) pepper
1 t " paprika
1/2 t dry mustard
1 T Worcestershire sauce
1 can Campbell cond. tomato soup
1 C Wesson oil
3/4 c sugar
1/2 c vinegar
1 medium onion (grated)
Mix ingredients together and shake well. Makes about 2 pts.
Fry bacon (cut in bits) and add grease (I do not) and bacon to the dressing. Add bacon to desired amount of dressing to make salad.
More Recipes For You To Enjoy: