This recipe was found in a large collection of recipes mainly from the 1960s and 1970s. There is a notation in the top right corner that says "Real Good", so I'm sure it is :) ! Recipe is typed below along with a scanned copy of the front.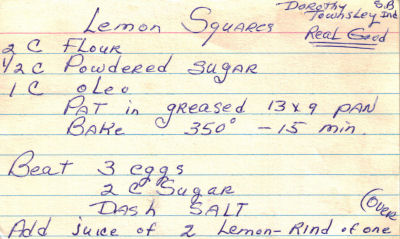 Lemon Squares
2 C Flour
1/2 C Powdered Sugar
1 C Oleo
Pat in greased 13 x 9 pan
Bake 350° — 15 min.
Beat 3 eggs
2 C Sugar
Dash Salt
Add juice of 2 Lemon–Rind of one (4 T Real Lemon–as substitute)
4 Tbsp flour }
1 Tsp Baking Powder } Sifted Tog.
Pour over baked bottom &
Bake 25 min — 350°
Dust with Powdered Sugar
More Recipes For You To Enjoy: