This recipe was written on a lined index card and found in a large collection, date unknown. I've typed it below along with a scanned copy (front side only).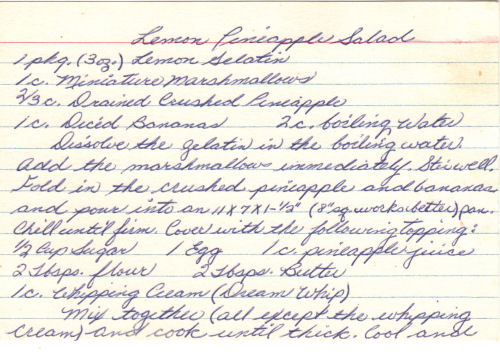 Lemon Pineapple Salad
1 pkg. (3 oz.) lemon gelatin
1 c. miniature marshmallows
2/3 c. drained crushed pineapple
1 c. diced bananas
2 c. boiling water
Dissolve the gelatin in the boiling water. Add the marshmallows immediately. Stir well. Fold in the crushed pineapple and bananas and pour into an 11x7x1-1/2″ (8″ sq. works better) pan. Chill until firm.
Cover with the following topping:
1/2 cup sugar
1 egg
1 c. pineapple juice
2 Tbsps. flour
2 Tbsps. butter
1 c. whipping cream (Dream Whip)
Mix together (all except the whipping cream) and cook until thick. Cool and add the whipped cream. Spread over top of gelatin. Top with chopped pecans if desired.
More Recipes For You To Enjoy: